Job trends over the last 12 months
Published on:
28 Jul 2022
Job trends over the last 12 months
Job analysts must be scratching their heads at the moment. The market in the last two years has presented its own twists and turns and been hard to predict as illustrated by the graph below, showing directly advertised HR, Reward and Payroll roles since the beginning of the 2021/22 financial year.
Whilst you will hear much talk of a potentially looming recession, I'm pleased to say that we have started the new financial year with a bang, buoyed by a 201% increase on a tough 2021/22 Covid year, with 38 new starters joining Oakleaf Group last year, and 22 hires made already since April. We have launched our Future Talent Scheme, with 15 talented individuals chasing their potential in two groups run so far. We cemented our commitment to the City, moving into fantastic offices at No.1 Poultry, offering our colleagues an enviable City location within a hybrid pattern offering up to four days working from home. Growth, mitigated with preparation for a still uncertain market, is very much on the agenda.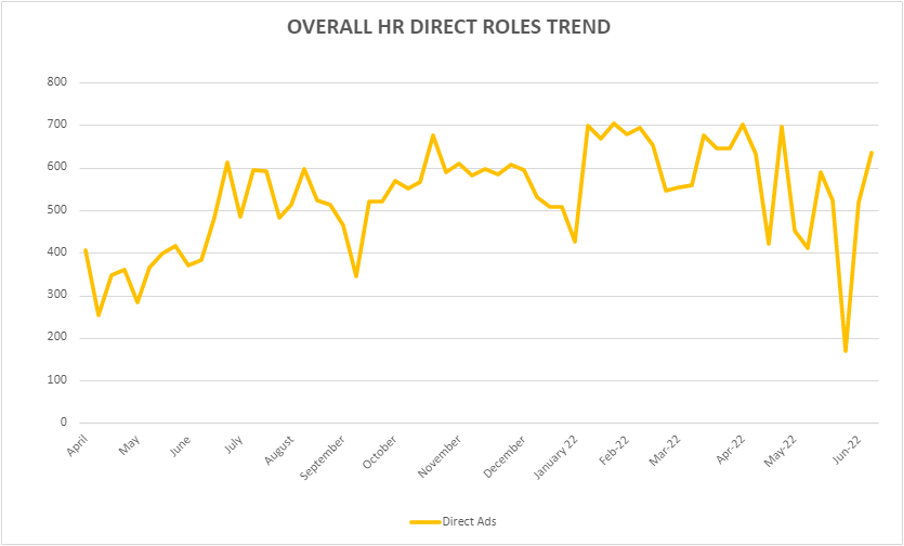 Brexit (remember that?) sowed the first seeds of volatility in the job market before Covid, furlough, the subsequent war for talent and rush to return to work (flexibly) reaped fields filled with considerable hiring challenges. Roles have evolved. Everyone wanted change specialists initially, we then saw an unprecedented demand for recruiters, which made up over a third of our total job portfolio in February. Now it seems the demand for multiskilled HR Business Partners and Generalists is on the up again, reaching its highest level for a year in May.
From the start of our financial year in April, we've seen an increase in the number of HR, Reward and Payroll roles at a more junior (up to £60k salary level), currently making up 54% of our overall portfolio, as opposed to 42% in December 2021. Numbers of senior to mid-market level roles seem to have fluctuated by comparison, making up 46% of our job portfolio in January, dropping to 32% in March and have steadily increased since April, currently sitting at circa 38%.
The desire for specialist talent is very much on the rise, particularly in our Reward, MI & Analytics division, while the consistent desire to work flexibly and as part of an increasingly diverse workforce has led to a surge in roles across Diversity, Inclusion, Engagement and Wellbeing.
Our clients are rightly keen to understand how we ensure sourcing from and supply of a diverse talent pool. I'm pleased to say we have made real strides in this space, with a growing internal E,D&I Focus Group , Women in Leadership and Proud HR talent communities successfully established. A client new to Oakleaf recently passed on several exclusive roles on the strength of our work in the E,D&I space, marking continued progress we're delighted with.